Finding the Best and Most Affordable Tent for Rent Philippines
Today, tent rentals are becoming more popular for events and trade shows in and out of the Philippines. So, if you have an upcoming event where you need to provide a temporary roofed venue, renting a tent is the best solution. It's not only affordable, but also reliable when it comes to defying harsh weather conditions such as strong rainfall or extreme sunlight. With this alternative, you also don't have to worry about the well-being of your guests, attendees, and other invited participants.
Why Event Tent Philippines Is Essential
So, you will be hosting a trade show in your local area. One of the priorities that you need to consider is the venue. Do you need a concrete venue like social hall or convention center? Or, you want something more comfortable that you can put anywhere you want? If you are agreeing on the second option, then a tent is the ideal solution you need. This is a temporary roofing that you can provide your participants wherein they can move freely and enjoy the refreshing background if you're holding the event in an open ground like in Mall of Asia, Makati Circuit Grounds, or a resort in Laguna.
However, there are various types of tents you will encounter once you contact your local tent rental service in the area. Choosing the right one can be tricky, especially if you don't know where to start. There are also plenty of choices to pick from and a lot of rentals available in the Philippines. So, how do you choose the most reliable partner when it comes to your tent rental needs? Good thing there are expert services that will guide you in every step of the process to make sure that your requirements are met in the best possible way.
Types of Tent Rentals You Can Avail
There are so many styles of tent you will find in the market today. The challenge is choosing which one suits your needs. Some factors you need to keep in mind when looking for a tent includes your theme, event space, and other custom rental requirements. Do not be overwhelmed by the abundance of choices in front of you. You can always ask for professional assistance to guide you in selecting a tent. Anyways, you can check online tent rentals Philippines to get what you exactly want.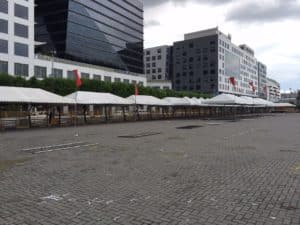 So, to help you find the best tent you need for your upcoming event, here are some of the common types of tents you can choose from:
Canopy tent. This type is perfect for flea markets, community day event, carnivals, and other huge events. The aesthetic design of canopy tents is also one of the reasons why you can always pick this for your upcoming event. The main goal of this tent is to provide shelter during light rain or sunlight. However, canopies don't have high peaks and may have flattened-style roof depending on their size. Lightweight canopies don't have sidewalls to protect guests from heavy rain or wind. Smaller canopy tents are often found during backyard parties and other simple gatherings at home. But all in all, these are economical options for your needs.
Pole tent. A traditional pole tent is practical during any type of event. In fact, this is the most common type of tent that people use. The appropriate design of this tent also offers great convenience to all occasions. The features include high peaks, customizable with pole skirts and fabric, elegant style, and easy installation. This is ideal for fundraising events, corporate picnics, weddings, graduations, and many others.
Sailcloth tent. The eaves and sculpted peaks of this tent is what makes it unique from the others. With translucent fabric, daytime events are enhanced with the natural light. For nighttime events, it makes the evening occasion even brighter. Sailcloth is waterproof and durable for any kind of gathering. The poles can withstand the weather while the frame ensures participants with sturdy tent throughout the day.
Cross-cable frame tent. This tent for rent is perfect for patios, concrete, pavement, decks, and other areas where you want to put it up. However, it doesn't have center poles so no obstructions will interfere in your events. The high peaks are created to withstand stronger winds. In addition, the cross-cable frame tent is designed to provide excellent shelter using T-shaped or L-shaped designs. The sidewalls are also helpful in providing better venue for guests during bridal showers, wedding engagements, and birthday parties.
Structure tent. If you need long-term tents, this is the best solution. Structure tents don't have center poles and heavy aluminum frames for better wind resistance. Also, it doesn't require stake lines and ropes for set up.
Pop-up tent. This small and lightweight tent has a collapsible frame and quality fabric. It serves as an excellent canopy for small gatherings while providing protection and shelter from sunlight and light rain. You can assemble this easily and remove quickly.
Dome tent. This is a complex type of tent as it is designed as a continuous air structure. It needs blowers that run continuously for set up. With the uniqueness of this structure, you can count on this during event registration, fun activities, and other occasions. Just make sure you won't be holding a cooking event using this tent because it is not designed for such event.
How to Find the Right Tent Supplier in the Philippines
If you're currently looking for a tent supplier in the country, it's important to know where to begin. There are overwhelming choices available around you. But you are lucky to have the following tips that will help you in choosing the perfect tent for your event needs: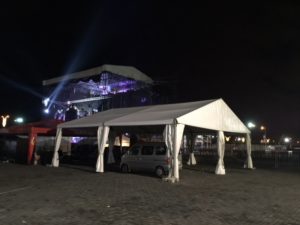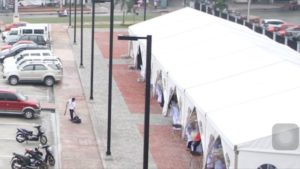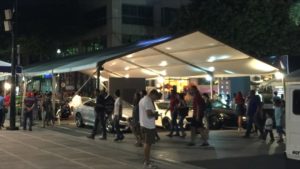 Location – Before you buy or rent a tent, you need to determine where you will be setting it up such as on concrete, black top, or grass. This is a priority because it will help you decide which type of tent you need to rent. For instance, you can use a frame tent on a tight space or concrete. On the other hand, a pole tent is ideal for grassy areas.
Size of the venue – another factor that you need to consider is the space you need for your setup. After determining the location, the next step is to understand how much area is required to set up your tent. A frame tent may take lesser area compared to a pole tent.
Purpose of your tent – since a frame tent doesn't have center poles which are obstructions, you can take advantage of this during family gatherings where kids will be running around. Same for weddings, the absence of center poles will make the event even more convenient for the guests.
Number of guests – it is also important to determine the number of attendees in your event. That way, you can pick the right tent that can accommodate all of them. Also, it will help you maximize your space while making your attendees comfortable.
Costs needed – and of course, you need to know how much you need to spend in renting a tent. That will help you meet your budget and get quality tent for your occasion. You will also enjoy better accommodation for your guests by determining the cost of tent rentals Philippines.
Additional Tips for the Best Tent
Perhaps, you find it overwhelming to do the task of looking for tent rentals in your area. But thanks to the various online tent rental suppliers that offer competitive prices. Finding an ideal supplier is not that hard anymore. All you need to do is browse these sites and compare their rates. After you finally decide where to rent your tent needs, make sure to conduct some background check to ensure they are the best option for you.
When choosing for the best tent for rent Philippines, did you know that there are so many options to choose from? But if you really want to benefit from a reputable supplier, it's essential to learn from the following tips:
Select at least 10 websites that offer online tent rentals. Compare each site from one another and make the most sound decision. You will know if you're picking the right one by considering the testimonials on the site.
Ask for recommendations. Perhaps, your friend or co-worker has been in this situation before. You can ask them for their tent supplier and know why the company is the perfect pick.
Determine if you need the traditional tent or the air-conditioned one. Yes, there are tents available for rent where you can conveniently put an air-condition unit to provide better ambiance to the attendees, especially during a hot summer day in an open ground.
Know your guests' expectations to help you decide which type of tent you will rent. There are people who are comfortable with frame-style or just the canopy type tent. Weigh the situation and let them experience what they exactly deserve.
If you want airconditioned tent Philippines, you can check out this site for the best options. M&G Global Ads is one of the few trusted suppliers of tent rentals in the Philippines. You can simply contact them or visit their website to know more about the available options for you. This company is an expert when it comes to event tents and party tents at budget-friendly rates.
Tent Rentals for Parties and Other Important Events
It's actually not that hard to find a dependable event tent Philippines supplier nowadays. If you know what you are looking for and how to benefit from it, you're on the right track. Just put in mind that the type of tent you will need depends on the type of event you will host. So, are you having a wedding party, debut, anniversary, feeding program, trade show, or family gathering in the future? If so, you can always count on M&G Global Ads for your party tent Philippines needs.
Renting the right tent provides good memories and fun moments to all those who will attend your event. If that is also your goal why you are searching for the ideal tent rental service, then you're on the right place. Feel free to browse the page and find whatever you need. You can contact the customer service if you have questions or simply message the admins via email.
Why M&G Global Ads Is the Ultimate Choice
Being an excellent choice as your tent supplier Philippines, the company also prioritizes the needs and satisfaction of every client. In addition, quality service is always the top goal when it comes to providing the best tents for rent in the country. And even if there are plenty of choices to select from, it's simple to get the exact tent you want for your event. Just make sure that it suits your budget and meet your standards.
Good thing M&G Global Ads is here to help every Filipino meet their tent rental requirements in a timely fashion. With years of industry experience, the people behind this company always make it a point to boost clientele satisfaction through trustworthy service at more affordable costs. It may be true that there are overwhelming options in the market today, but if you know which one to trust, you will surely find the ultimate tent for your corporate events, birthdays, anniversaries, weddings, and any other occasion that is important to you.
Celebrate every milestone with a reputable tent supplier in the Philippines like M&G Global Ads. There are lots of various tents you can rent while taking advantage of more affordable options. If you ever need such service, do not hesitate to contact the company and the representatives will guide you throughout the process. All you have to do is provide the exact details you need, and expect for the best tent rental you want. Do not forget to check this out for your ideal choices and positive customer experience. With M&G, you are guaranteed to receive the exact service you deserve.
Summary
Reviewer
Review Date
Reviewed Item
Author Rating