Store Signage for International Brands
Once again, M&G Global Ads provided top-quality store signages for several international brands now present in the country. We have always been the top sign maker of choice by international brands because they can confidently expect that we will deliver the best store signage possible.
Vilebrequin – A Touch of France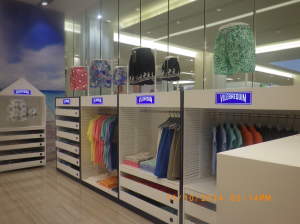 Our first international brand was Vilebrequin, a French clothing brand. They specialize in swim wear and ready-to-wear clothes for men and women. The brand was established in 1971 and now has over 150 stores in 52 countries all over Europe and North America. Vilebrequin is the French word for the automobile motor. The founder, Fred Prysquel was a photographer and sports mobile journalist so when he created the brand, he named it after an automobile part.
Vilebrequin's main product is luxurious swim wear that is offered in various styles, patterns and colors applicable to all generations from the very young (2 year old kids) to the most matured. They also offer sizes up to 5XL so that everyone surely has something in store for them.
Recently, they have started to expand aggressively in Asia and in the Philippines, they have two stores – one in Bonifacio High Street Central and another in Rustan's Makati.
For their store in Bonifacio High Street, we created the store signage. We were careful to ensure that the acrylic signage we produced was of sturdy and excellent quality. A 40-year old luxury brand such as Vilebrequin deserves only the best signage.
Superdry – America, Japanese and Europe Rolled into One
Another international brand that recently opened in the country was SuperDry. They are a clothing company combining Americana styling with Japanese-inspired graphics. The brand was established in 1985 and expanded across UK university towns and cities like Oxford and Cambridge throughout the 1990s. But it was only in 2008 that it began to aggressively expand across Europe and nearby continents. In 2012, the brand was present in over 40 countries worldwide.
Superdry's products constantly feature meaningless Japanese text which is inspired by the Japanese practice of placing decorative English text on items to make them more fashionable and appealing. They use simple machine translation to generate Japanese text which they know have no meaning.
Superdry's success has reached the Philippines recently through Stores Specialists, Inc. – their sole distributor in the country. The first store opened in Bonifacio High Street Central last October 17, 2014. M&G Global Ads created the store signage which announced to Manila's fashionistas that another international brand is here. We took special care in creating the acrylic signage because we knew that the famous brand takes pride in their codes of quality, value and design. Since their aim is to keep Manila's fashionable set looking their best in any season, our aim was to make sure their store looked nice and credible all year-round. We used only the finest material to create a sturdy store signage that will last them a long time.
Ramen Iroha – Riding the Ramen Craze
From international clothing brands, the Philippines is also seeing an influx of global food concepts. One of the most recent international food concepts that opened is Ramen Iroha, a ramen joint straight from Japan. The popularity of ramen in the country has inspired many concepts both local and foreign to open up an outlet. Ramen Iroha joins the rank of many ramen places and is a joint venture between Global Restaurant Concepts, Inc. (GRCI), the company behind IHOP and California Pizza Kitchen (CPK) and Kiyoshi Kurihara, the person recognized as Tokyo's most relevant ramen chef. Kurihara has won the Tokyo ramen competition four years in a row. He flew to Manila to personally train the local staff at Ramen Iroha so you can be confident that their ramen is authentic.
Ramen Iroha is located in W Global Center in Bonifacio Global City but they target to open other branches in the country since according to their CEO, Archie Rodriguez, the Philippines' economy has been on the rise and more people are spending. It is also time for global concepts such as Ramen Iroha to enter the scene and compete with other food chains.
Prior to Ramen Iroha opening its doors to the public, M&G Global Ads first prepared their store signage that would introduce them to the local scene. We created an acrylic signage that is easily recognizable from afar by passers-by. A new global concept deserved a signage that is of top most quality – something that only seasoned sign makers such as M&G Global Ads can provide. From fabrication to installation, we were careful to follow the specs of the brand so that the final output will be at par with the other store signages of their international outlets.
When creating store signages for international brands, it is important to strictly follow the specs given by the client. International brands have a reputation to protect and their store signages must all look the same regardless of location worldwide. That's why international brands like VIlebrequin, SuperDry and Ramen Iroha choose to go with veteran sign makers like M&G Global Ads. Our thrust is to always produce a signage that not only closely resembles the store signages of the brands' counterparts in other countries but to also communicate the brand's inherent values of excellence and passion. We do this by making sure our store signages, whether they be acrylic signages or steel signages are produced with top-quality materials so that they can last for a long time.