SAVOY HOTEL BORACAY SIGNS & SIGNAGE
Savoy Hotel, located at Newcoast Station in Boracay, is owned and operated by Prestige Hotels and Resorts, Inc. PHRI is a reputable company that aims to manage Megaworld's portfolio with wide range of hotel and leisure destinations. And with world-class arrangement, Savoy currently provides luxury condominium hotel units with state-of-the-art amenities. The worry-free ambience helps local and international guests create a more relaxing holiday in the beautiful island of Boracay.
Easy to Find Hotel in Boracay
It's not hard to locate where Savoy Hotel is. Why? Because it has a visible signage designed and created by MG Global Ads. Our team integrated the latest signage making designs and fabrication tools to ensure quality and affordability. Plus, we're one of the best signage makers in the Philippines that offer industry-leading products and services that you can take advantage of in the long run. So if you need signages such as the acrylic, stainless, and pylon type, we're here to help you.
The building signage is also attractive and well lighted. In fact, many tourists are enjoying their selfies and groufies with this lovely background. For them, the trip wouldn't be complete without taking their photos in front of the Savoy Hotel stainless signage. And the smiles in their faces lighten up the view even more. We can't wait to see your photos uploaded on Facebook, Instagram, or Twitter while tagging them with MG Global Ads!
Luxury Facilities and Services
Just like how MG Global Ads aims to provide unforgettable service to clients, Savoy also offers remarkable facilities to guests. You will enjoy fully furnished hotel rooms, excellent maintenance service, friendly accommodation staff, and many more. In this hotel, you will feel at home and relaxed while enjoying the amazing views of the island. So the next time you look for a travel destination, this is the place to be.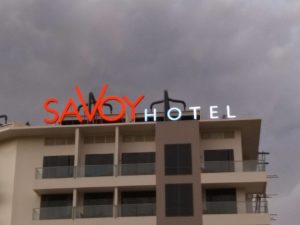 The acrylic signage is not that difficult to notice. As a matter of fact, all acrylic signs add more beauty to any building, establishment, or office. Even in your private property, you can benefit from them. Just contact MG Global Ads if you want to experience quality services from the Philippines' ultimate signage maker. Also, we provide sign fabrication like stainless signs as well as pylon signage. All you need to do is call or email us so we can give you the exact quotes.
Why Tourists Choose Savoy
Apart from the modern amenities provided by Savoy such as the swimming pool, paved sunbathing lounge, in-water pool lounge, shower and changing rooms, pavilion, pool bar, outdoor spa, children's pool, cabanas, wet bar, adult wading pool, business center, gym and workout area, and stage, local and international guests also enjoy the stunning beach views like no other. And since this island is also popular for nightlife, you are guaranteed to enjoy the lighted boxes in each club you'll see in Boracay.
But wait, there's more! If you're fond of dining at local restaurants and shopping local items for souvenirs, this is the paradise you've been looking for. Savoy Hotel is located near the shops available in the station. Just ask the locals or the hotel staff if you want to get some useful tips before buying local souvenirs. Maybe you can get big discounts and even other special offers for friendly tourists like you!
When it comes to unit types, guests take advantage of queen bedroom, twin bedroom, and specially-abled bedroom units in the hotel. Just to give you a tip, ask the front desk for the features offered in every unit to ensure that it's what you exactly want. Or, you can search the hotel on the internet and get customer feedbacks before booking a suite. That way, you'll surely enjoy your staycation in Savoy Hotel, Boracay!
EAST WEST PLACEMENT AGENCY SIGNS AND SIGNAGES
When it comes to POEA-approved jobs abroad, East West Placement Agency is the ultimate staff to rely on. The office is located at San Antonio Village, Makati City. Usually, they send qualified Filipino workers to Qatar, Saudi Arabia, and Oman. So if you're interested in working abroad, especially in the Middle East, East West is all you need. This agency is certified and licensed to ensure the welfare of every worker who decides to work with them.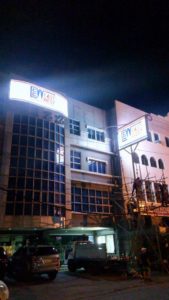 How to Apply
If you want to work abroad, just visit Rizz Tower 1059 Metropolitan Ave., San Antonio Village, Makati City. It's where you'll find East West Placement Agency office. You can also contact them via phone call or their website for more details. Make sure to complete the requirements for the job position you want and be ready for a series of interviews and assessment. Also, you need to pass the medical examination to continue to the final interview.
Once you passed all the requirements and evaluation, you will proceed to the contract signing which will be scheduled by the staff. There are other opportunities you can take when you decide to be handled by East West Placement Agency. For more information, feel free to talk to one of the representatives available in the office. See a brighter future and provide more for your family with this reliable agency in the Philippines.
Better Signage, Brighter Future
It's so easy to find this agency because their building signage is made by MG Global Ads. In fact, we are the ones who designed, fabricated, and installed their signages. And we're happy to see the transformation we've made for East West. Just like how bright their building signs are, your future will also become better with this Philippine-based agency for those who want to work abroad. So do you want to explore overseas employment opportunities? Spot on! This is the place you should visit.
With modern methods and facilities, MG Global Ads is a promising signage maker in the country. Through the years, they have been serving clients with high-quality acrylic signs, stainless signage, pylon signage, and many other types. That's why you no longer need to look any further because we are here to provide you with the best signage making service you exactly need. No gimmicks, our stainless signs are sure winners for buildings, commercial establishments, properties, and corporate offices.
Think Ahead, Stay Ahead
Just like East West Placement Agency's slogan, MG Global Ads also aims to support the needs of customers by thinking ahead to stay ahead of the competition. In fact, signage makers in the Philippines don't have an easy battle when it comes to gaining long term clients. Like in our company, we always make sure to give them the exact output they've imagined before working on the project. That way, we gain the trust of the many especially our new clients.
Same goes to this agency; they offer the best opportunities that employees need. After all, it's the customer experience that matters, right? So if you are currently in need of a reputable signage maker in the Philippines, let MG Global Ads show you how it's done. No more talks, just look at how we take action in every project that we take. Or you can check out our portfolio and these photos on the webpage to know how we really work. If you have questions regarding our work, pricing, time framing, and other related concerns, please don't hesitate to contact us today. Our friendly staff will be glad to assist you.
PHILIPPINE CHILDREN'S MEDICAL CENTER SIGN & SIGNAGE
The Philippines Children's Medical Center is located in Quezon Avenue, corner Agham Road, Quezon City. It provides extensive services to children with illnesses and health conditions like cancer, leukemia, and heart ailments. But the main objective of this government-owned institution is to offer more affordable medical services to those who are most in need of professional medication, surgery, and other operations.
Increase Children's Awareness about Medical Concerns
This medical institution also helps to raise public awareness especially the children when it comes to their intellectual and moral upbringing. With the help of dedicated doctors, staff, and other concerned citizens, these children are given the opportunity to live a normal life despite the struggles they have. The Philippine Children's Medical Center sincerely provides a great selection of subspecialty and general services in allied medicine, surgery, and pediatrics.
And in connection with raising public awareness, MG Global Ads partners with PCMC in order to produce quality signs in the building. As one of the leading signage maker companies in the Philippines, it is our duty to ensure long lasting hospital signages that are easy to see and understand. In addition, we have years of experience to fabricate acrylic signs, stainless signs, and other hospital signs needed by PCMC.
Giving Hope to Young People
While the Philippine Children's Medical Center gives hope to children in poor health, MG Global Ads also helps in lighting the paths of these young people through lighted boxes and signs. We are one in terms of making this country a better place not only for children but also to all Filipinos who need to know that hope can be found in our hearts. Our team is committed to provide first-rate building signage designs that can withstand harsh weather and time.
The training programs at PCMC include hematology, oncology, ambulatory medicine, adolescent medicine, and general pediatrics. This is to help nurses, doctors, and volunteers in enriching their knowledge about professional healthcare service. They also have this program called Support A Child wherein you get the chance to help one chosen youngster in terms of their medical needs. Hence, this is a great opportunity to extend a helping hand and share your blessings to those in need.
Leading Signage Maker PH
Whether you need an acrylic signage, stainless signage, or pylon signage, MG Global Ads is here to offer you satisfying services. Just like the Philippine Children's Medical Center, you are guaranteed to enjoy same quality signs and signage that you exactly need. Feel free to provide the exact details you want and our professional team of signage makers and designers will work to deliver your project on time.
What we love about our work is that, our clients give us inspirations every time they're happy with the results. Not to mention, some of them really took time to give us remarkable feedbacks that are still in our minds. So as we progress in this kind of business, we target to provide quality signage making services throughout the Philippine archipelago. It doesn't matter where you are or your business is situated, just call us and we will help you meet your requirements in a timely fashion.
And PCMC is just one of the long term partners we have in the business. There are lots of businesses and brands in the Philippines that choose to work with us in the long run. Our happy clients remain loyal in hiring us as their reliable signage maker in the country. On that note, we always value the trust that has been given us by working on all the projects professionally and promptly. We understand that time is precious to every business so we make sure to deliver projects on time.
Bottom line is, MG Global Ads does it all – from simple business signs to complex building signage. Let us do the work and see why we're different from other signage makers in the Philippines. Plus, you can take advantage of our skilled and experienced team in promoting your name to your target market at more affordable cost.
SMART GROCERS INC. SIGNS AND SIGNAGE
Smart Grocers Inc. is one of the largest grocery stores in the Philippines. It's located at Caruncho Ave., Pasig City where a lot of smart grocers are actually found. With years of experience in the market, this company remains one of the trusted stores that consumers choose. You can get special discounts and promos everyday while enjoying the best deals in your grocery list.
Smart Buying with a Trusted Name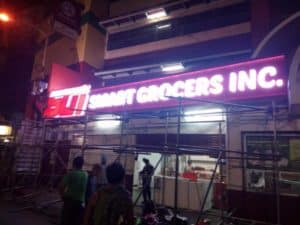 With the strong competition in all industries, it's important to keep up with the current needs and demands of the Filipino consumers. However, staying ahead of the competition is not that easy. You need to plan your marketing strategy and deliver the best customer service in order to be in customer's choices. And thanks to MG Global Ads because Smart Grocers now have appealing signage that is easy to see. According to customers, it's a relief once they already see the building signage. It's like someone is coming to rescue them and give them food.
As the signage maker of Smart Grocers, we're happy to see that the grocery signage we've made is working to promote the establishment more. It has provided better branding for the store while attracting more buyers not only in Pasig area, but also from nearby cities. And so we make sure to install the right signage that they need. But we also deliver acrylic signage, stainless signage, pylon signage, and many more.
Signs That Work
If you want to put stainless signs or acrylic signs in your establishment, our variety of signages can help you meet your requirements. All of our products are appealing and quality-made to ensure that our clients get the most value from our signage designs. All you need to do is visit our office or call us via our telephone number to assist you with your concerns. Or you can simply log onto our website and see how we can help you. Browse our portfolio and decide if we are the exact signage maker you are looking for.
Another advantage of working with us is that you are free to submit us the exact design you want and we'll fabricate and customize it to meet your branding requirements. Our lines are always open so you can immediately contact us if you have additional requests to include in the project. But if you'll be starting from scratch, our signage designers can help you create the perfect logo that you need. And then, we will consult you before fabricating the signage.
Why Choose Us?
The last thing we want is to displease our clients. So in order to avoid that, we constantly communicate with them to ensure every step we take. That's what we did with Smart Grocers. Our team made sure that every move is approved by the client and the work is timely delivered. And look at how we were able to deliver a fantastic signage for this grocery store in Pasig City. After installing it, we are all wowed by the output. Thanks to our team who worked really hard to deliver it on time. And to Smart Grocers that have been supportive throughout the project.
Don't be left behind. Upgrade your business with quality signs that exceed your expectations. Contact M&G Global Ads Inc. today and get free quotes. You can also visit us personally to assist you with your project. Our team will show you how we work and the requirements before finally putting the project in progress. So if you need modern advertising tools, we're here to give you the ultimate signage that you need!