Aeropostale Signs & Signages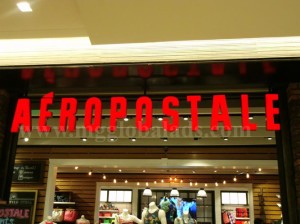 Aeropostale is a leading clothing retailer that specializes in casual apparel and accessories for teenagers. The brand has been known worldwide for its design orientation which is heavily based on the lifestyle of its target customers – designing clothing and apparel for teenagers with an active lifestyle. And with this specific design orientation, it has brought the retail brand to greater heights since its establishment in 1987 in California. Now, Aeropostale has over a thousand branches all over the United States and is now expanding its operations in other parts of the world.
Every brand name and company has its own reputation in their respective fields. However, in the competitive arena of business and marketing, reputation and hard work would not be enough. That is why entrepreneurs and business owners, regardless if they have established reputations or not, must be able to determine and grab every advantage and opportunity they can get so to get ahead of the competition. That is why marketers and advertisers continuously look for ways to market products and services in a new way.
                              However, we often forget that the one of the most effective advertising tool around is the establishment itself. The look and the feel of the business establishment is an effective marketing tool because it can invite or turn away potential customers. And one of the most important component in the establishment design are the indoor and/or outdoor signage. Because it is the most noticeable of all the components in the design, these signage design must be of good quality so that it can instantly attract potential customers to walk into your store.
Aeropostale awarded M&G Global Ads, the number one trusted signage maker in the Philippines, to fabricate and install their signage for their new branch located at the Central Square Mall in Bonifacio Global City, Taguig. For this project, M&G fabricated and installed a lighting indoor signage for Aeropostale. When lit up, the sign gives off a red colored glow against a dark colored wall. Although the design was very simple, by making use of a very bright and warm color for the signage, it has instantly captured what the retail brand is all about – designing and retailing clothing for young people with an active oriented lifestyle.
                              The Aeropostale indoor signage is only one of the many projects that have been commissioned to M&G. Because of the high quality output it produces for each client, M&G has been awarded with numerous and various projects from leading and up and coming brands, both locally and abroad. M&G Global Ads, the number one signage maker in the Philippines,provides various services to its clients, be it the fabrication of signages for a newly opened branch or installing a wall sticker on a building to advertise a brand's products and services.
In the very competitive field of retail, there is no other time but now to give your business some leverage to help you achieve success. Grab this business opportunity now and contact M&G Global Ads, the leading signage maker in the Philippines.
Summary
Reviewer
Review Date
Reviewed Item
Author Rating