SAMBO KOJIN: RESTAURANT SIGNAGE FOR A PREMIER BUFFET
Restaurant signage are one of the expertise of M&G Global Ads. Recently, a prime buffet restaurant, Sambo Kojin, commissioned us to create an acrylic signage for their establishment. As the number 1 sign maker in the Philippines, restaurant signs are one of our specialties. Engagements like these are definitely up our alley and we are confident to deliver great service.
Getting to Know Sambo Kojin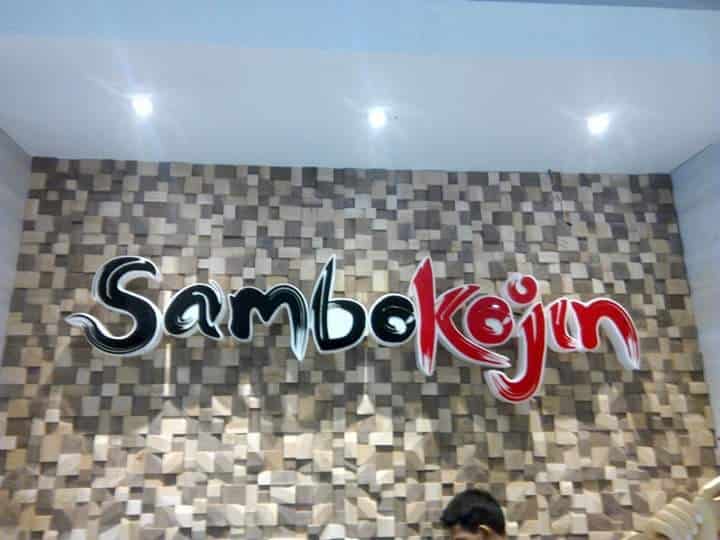 Sambo Kojin is a buffet restaurant specializing in Japanese and Korean cuisines. They have branches all over Metro Manila from Quezon City to Las Piñas. Every Sambo Kojin branch is well-lit and spacious. All the stores are really big! Each table is equipped with a grill that have special exhausts at the sides so that the smoke are sucked in before it has had a chance to stick to your clothes. They call this grills as smokeless yakiniku grills.
Sambo Kojin offers a wide variety of Japanese food ranging from sushi, sashimi, sukiyaki, takoyaki, tonkatsu, tempura and other authentic Japanese dishes like Tori Kuwayaki (Sweet and Spicy Chicken) and Teba Chili (Spicy Japanese chicken wings). They also offer authentic Korean dishes like Kanpunggi, beef bulgogi and the famous Korean Double Fried Chicken.
What sets Sambo Kojin apart from the rest is their grilling section with a wide assortment of fresh and seasoned meats, seafood and vegetables. You can choose whatever you like and bring them to your table for grilling in their yakiniku grills or you can give them to a chef who will grill them for you. Dont' forget to try those wrapped in bacon! They taste absolutely great!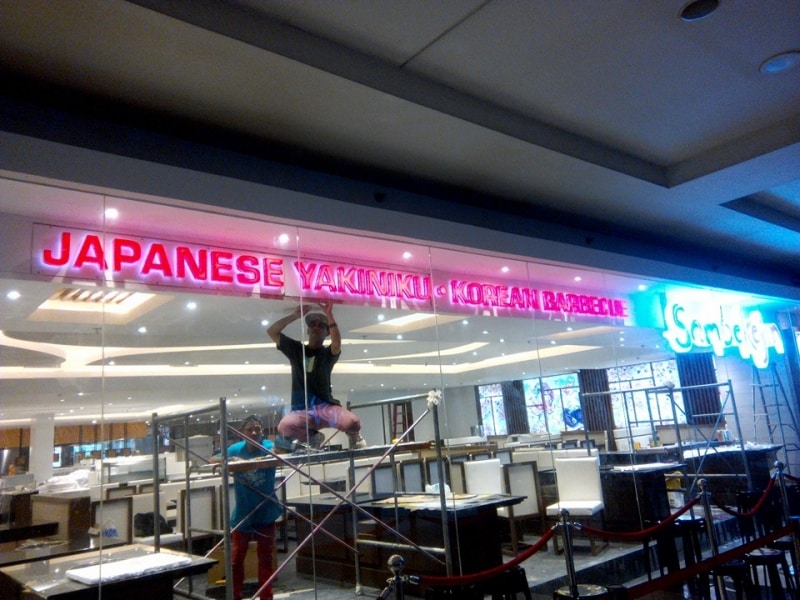 Sambo Kojin is a great buffet restaurant to try especially if you come in big groups or you are celebrating the birthday of someone in your party. They give special promos and offers but you have to book in advance especially if you're a big group. The restaurant tends to get crowded especially on weekends and holidays. They are open daily and depending on the days of the weeks may have separate lunch and dinner hours. The best days to try will be on weekends since they are open the entire day from lunch to dinner so you can stay for as long as you like. It's ideal for celebrating special occasions so you are not pressed for time.
You can check out their website (www.sambokojin.com) for the latest updates on their branches, opening times, rates and promos.
Creating the Restaurant Signage
Everyone at M&G Global Ads was excited when we got informed that we're creating a signage for this prestigious buffet restaurant. It was another challenging project that we were excited to showcase our craftsmanship.
We began with planning for the needs of Sambo Kojin's acrylic signage. Every restaurant sign is unique and has special needs that has to be attended to. We may have created hundreds of restaurant signs but we treat each one as a special project and give all our attention to it.
The first step in every project is meticulous planning and measurement. We confirmed with the client the specifications of their restaurant signage and drafted a plan first. We presented this to the client for approval. Once it has been approved, we proceed to production.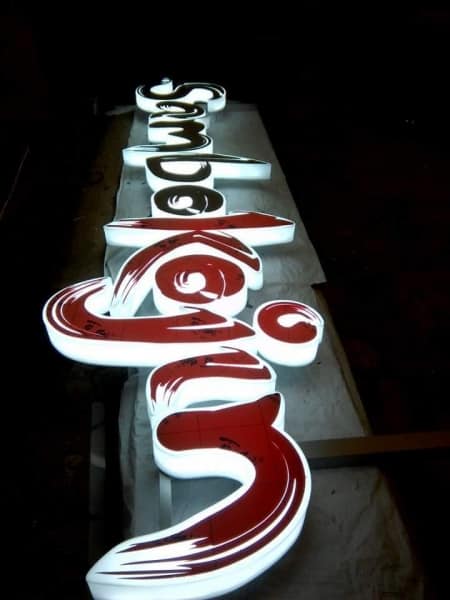 Fabricating the signage is a laborious task but one we do with utmost care and attention to even the tiniest details. We make sure all our workers adhere to safety standards to avoid any untoward incidents. We also double check all measurements to make sure they are accurate and we refer constantly to the plan to make sure we don't miss any important detail.
A restaurant signage is often tricky because of all the small details in the design that you have to be particular about.
Once we came out with an acrylic signage that we can be proud of, it's time to install the restaurant sign and marvel at our work.
Installing the Restaurant Signage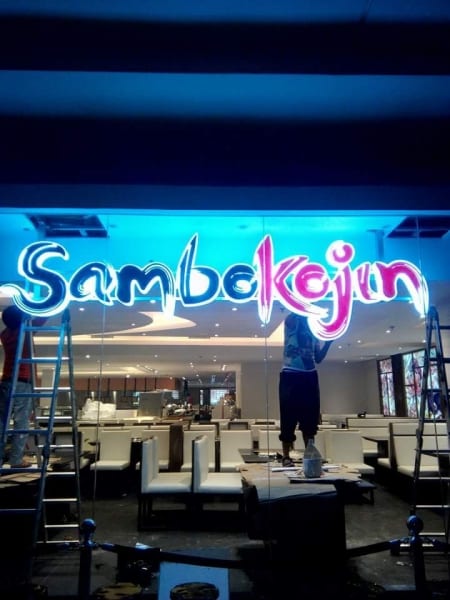 Installation involves moving the signage from our factory to Sambo Kojin's branch. We are careful to transport the signage properly and employ all safety precautions to make sure no part of it is damaged. Once we reached the place, we carefully dismount the acrylic signage from our transport truck and our workers will bring them carefully to the location.
Actual installation is done by our seasoned workers who has installed hundreds of different types of signage. However, they still adhere to safety standards to make sure that everything goes smoothly and without a hitch.
Usually, we install signage at night time or during the non-peak hours. For Sambo Kojin, we were already at the location by early morning before the restaurant opened. We installed the signage quickly but carefully.
After installing the acrylic signage, we make sure that it looks well fitted and aligned. We checked how it looks at all angles and we checked if it's fastened securely. It's important that the signage is securely attached to the wall to avoid any incidents or accidents in the future.
It was a job well done and another day fulfilled once we finished installing Sambo Kojin's restaurant signage.
Maintaining the Signage
Signage maintenance is often overlooked because most business owners just focuses on the now. Even though our signage can last for years without fading or being damaged, especially if they are indoor signage, they still need to be maintained from time to time.
Maintenance will involve cleaning the signage, replacing any flickering or busted bulbs and checking the overall surrounding where the signage is placed. We can also perform signage maintenance.
The Final Product
Sambo Kojin is a restaurant everyone should try when they get the chance. The food is great and generous. The ambiance is nice. And most importantly, they have a great restaurant signage from us! (Yey!). Seriously, go try out Sambo Kojin for that fill of authentic Japanese and Korean cuisine.
And for your signage needs, call M&G Global Ads. We'd love to help you with your signage!