Acrylic signages are often lighted and used to either display ads or display information. The extent to where these signages can be mounted is vast however it takes an experienced sign maker to be able to execute properly a signage that can withstand the tests of time.
Light Boxes for Advertising in SM Mall Makati
SM Mall is one of the leading malls in the Philippines. It is a prime development of Henry Sy, one of the country's wealthiest businessman. The mall is known to cater to every Filipino's wants and promises to have everything any Filipino would need. As part of their commitment to better serve their clients, their malls undergo regular renovations to ensure its relevance to the changing market needs as well as assure shoppers of the integrity of the building structures over time.
One of their malls that is being renovated is SM Mall Makati. The mall has recently undergone a major renovation of its interior space in order to cater to a wider selection of international brands such as Uniqlo and H&M. With the renovation project comes the need to install brand new light boxes in strategic areas inside and outside the mall. These light boxes will be used as prime advertising space for the brands that will be housed inside the mall. As one of the prime malls in the country, SM Makati needed signages that would reflect the same dedication to quality that the mall does.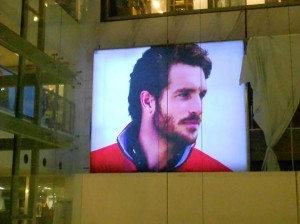 We are proud to mention that M&G Global Ads was chosen as the sign maker for this project. We were asked to create twelve 4x5m light boxes located indoor and twelve 2.4×2.6m light boxes located outdoors. We made acrylic signages that are of top quality and able to withstand long lighted moments since the light boxes will be lit up almost 24/7. The light boxes will contain ads in vivid color and must be able to sustain the test of time. The outdoor signages must best able to withstand harsh weather conditions as they will be exposed to elements of heat and rain. The indoor signages, although not in danger of weather elements, must still be of top quality.
To be able to install these signages, we had to be extra careful since the indoor light boxes alone required us to brave the odds of height since their location were mostly in very high places. This is because these acrylic signages are intended for where people can easily see them. We employed the usual safety measures and precautions that we use whenever we install outdoor signages at the top of high rise building like our project with Makati Shangri-La and Hotel Jen.
Although SM Makati hasn't finished their renovation project yet, we are proud to have been able to deliver signages that exceeded their expectations.
Solaire – Directional Signages/Acrylic Signages
Another project involving indoor acrylic signages was the refurbishing of Solaire's directional signages. M&G Global Ads was chosen as the sign maker to maintain and refurbish the existing directional signages of the country's top resort casino.
Solaire Resort & Casino is located in the Entertainment City complex along Bay City in Parañaque. The entire 8.3 hectares complex includes a five-star hotel with 488 rooms and a 1,000 seating capacity grand ballroom. It has a gaming area with 1,200 slot machines and 300 gaming tables. There are also world-class convention facilities and leisure, live entertainment, dining and retail hubs. This is just the first phase of the project and there will be another phase to develop the entire 120-hectare property. As the project commences, there would be a 1,760 seat theater, another 312 suite hotel, a nightclub and more restaurants.
A complex as large as Solaire would definitely need well lighted directional signages. Their signage must be high quality acrylic signages that when lit up is clearly seen and the directions contained are clearly understood. These signages, which are lighted almost the entire night, must also be sturdy and withstand the heat that being lit up causes.
Installing the directional signages were easier compared to our other projects. However, we still took the mandated precautionary measures to ensure the safety of our crew during the installation process. This also ensured that the signage would be handled with utmost care. In all our projects, we make sure professional safety standards are followed so as not to jeopardize any aspect of the project.
Solaire will now be able to welcome once again the hordes of tourists and visitors that will flock the complex especially during the holidays. Their well-lit and newly refurbished directional signage would ensure that none of these visitors are lost as they navigate the vast complex and enjoy the night away.
At M&G Global Ads, we are committed to giving your business high quality acrylic signages that become testaments to the professionalism of your brands.
Summary
Reviewer
Review Date
Reviewed Item
SM Lightboxes & Solaire Directional Signs
Author Rating