Acrylic Signage for Hospitals and Schools
Schools and hospitals are important establishments in any community. They offer basic services like education and health that every person needs. For this reason, it's important for them to be easily distinguishable. One way for them to be recognizable is through their signage. Hospitals and schools also require good quality signage that will enable their customers to find them. Also, a good quality signage adds credibility to the institution and assures customers that the hospital or the school is professional and knowledgeable in what they offer.
M&G Global Ads, the number one sign maker in the Philippines was approached by Unihealth Southwoods Hospital & Medical Center and Pasig Catholic College to fabricate and install stainless signage for their buildings.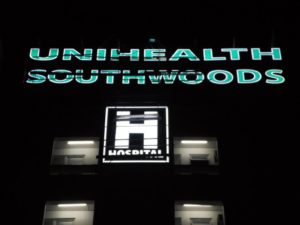 Unihealth Southwoods Hospital & Medical Center is located in Biñan, Laguna and is a 100-bed capacity hospital. It's relatively small but one with an increasing solid reputation as a reputable hospital and medical center with a team of experts who can handle their patients' health needs with care and expertise. They were officially opened and inaugurated last December 2014 and since then has had numerous satisfied customers who found their services extremely satisfactory. They offer complete medical services like Out Patient Consultations, Hemodialysis, Pulmonary Services, 24-Hour Emergency Response Services, Laboratory Services including Radiology and Ultrasound, Rehabilitation Medicine, Obstetrics and Gynecology, Paediatrics, Internal Medicine and General Surgery. They have an in-house pharmacy as well as a General Dentistry Department and an Orthopaedics and Ophthalmology Sections. It's a complete package hospital that residents in Biñan will find really convenient and suited to their needs.
Pasig Catholic College is a private educational institution located in Pasig City and founded by the CICM fathers in 1913. It's a Catholic School under the Diocese of Pasig who celebrated their centennial anniversary last 2013. PCC is a PAASCU accredited school for the Grade and High School levels as well as the College Department. They have been re-accredited numerous times for their compliance with PAASCU requirements. They offer preschool, elementary, high school and college education and are committed to evangelization, quality Catholic education, academic excellence and social transformation.
The hospital, which is an eight-story building required a hospital signage placed at the top of the building façade. This will enable their patrons to identify them from miles away. The school similarly required a school signage to be placed at the top of their main building. It will serve not just as an identifier but as a symbol of pride especially for the students and teachers that they belong to a prestigious institution.
M&G Global Ads fabricated stainless signage for both the school and the hospital's needs. We decided that a stainless signage is the best signage for their needs because it is durable and long-lasting against the forces of nature which is stronger at such heights. In order to install the said signage, we had to make sure that they are supported by steel railings and fastened securely in the building's façade to avoid any accidents.
Signages for tall buildings, even if just several stories high, must always be stainless and well-supported. This was our thrust and design for the hospital signage for Unihealth Southwoods and the school signage for Pasig Catholic College.
Related articles across the web
Summary
Reviewer
Review Date
Reviewed Item
Author Rating