Acrylic Signage for Every Business Need
Signage is important for every business especially those who are new to the market and still introducing themselves. M&G Global Ads is committed to helping businesses introduce themselves to their target market by providing well-executed and long-lasting signage.
Here are some of our recent clients who sought our expertise with their signage needs.
Office Signage for a Well-Known Brand
Signage are not just for external use. They can also be for internal use inside offices in order to strengthen the company's branding to employees and guests. Toshiba understands this and has sought our help to create an office signage.
               Toshiba is a famous multinational conglomerate with headquarters in Tokyo, Japan. A lot of people worldwide are familiar with the brand because of their top-of-the-line electronic equipment such as household appliances and office equipment. The company was founded in 1938 through the merger of two Japanese companies that have been around since the late 1800's.
Here in the Philippines, Toshiba is a household name famous mostly for their large selection of television sets as well as other appliances. They also have offices around the country and one of them is in Taguig, Metro Manila.
M&G Global Ads was commissioned to create an office signage for this location. The office signage was an acrylic signage that lights up from within. It hopes to strengthen the branding of the Toshiba brand within the workplace. We created a simple acrylic signage that amplifies the brand qualities Toshiba stands for – elegance, durability and strength.
As a veteran sign maker, we understand that there are differences between an internal acrylic signage and an outdoor acrylic signage. Although the internal signage is not exposed to the same weather conditions as an outdoor signage, it must still be made with the same amount of precision and attention to detail as those of an outdoor signage. Office signage must be precise because they will be inspected closely by the people who'll see them.
A Restaurant Signage for a New Ramen House
Do you love Ramen – the Japanese noodle soup that's full of flavor? It has been a recent craze in the Philippines and with the flourishing number of ramen restaurants, it proves that the craze is here to stay.
            The most recent ramen place that everyone would surely love is Ramen Metro located in Blue Bay Walk along Roxas Boulevard. They claim to be a new breed of Japanese Ramen House. They are reinventing the well-loved, old-fashioned ramen into something new but with the same high quality people have come to associate with ramen. They aim to bring a new experience to ramen lovers.
They recently opened last May 2015 and has commissioned M&G Global Ads to create their restaurant signage. We created an outdoor acrylic signage that would announce to the public what these new restaurant is all about. We made sure to follow accurately the specifications of the client. This is important because for a new place, the signage creates the first impression and as we all know, first impressions always matter. It is important to capture the attention and interest of our target market from the very beginning. This starts with an expertly created outdoor signage made by a reputable sign maker.
For Ramen Metro, we made the standard restaurant signage. This acrylic signage lights up beautifully at night and is carefully mounted above the front doors. Our team carefully installed the signage and took precautionary measures to ensure everything is done in a safe environment. The result was an eye-catching acrylic signage that lights up at night and effectively captures the attention of potential customers.
Building Signage for a Fast Rising Condominium
Residential living in Metro Manila has become more widespread in the past years. Various condominiums have been erected in different areas and have attempted to attract different types of people. Hampton Garden in Pasig City seeks to attract those who are looking for the exclusive lifestyle of a condominium and the life-nurturing situation of a subdivision. It seeks to merge the wonderful benefits of condo living and subdivision living.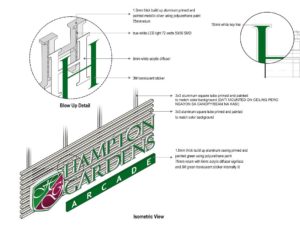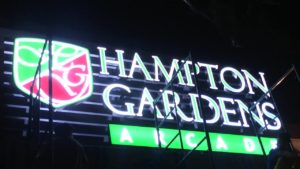 In order to promote this new real estate development, the management of Hampton Garden decided to commission the premier sign maker in the Philippines, M&G Global Ads to create a building signage that would identify the location to the public.
The required signage was different from the usual orders of outdoor acrylic signage because it was not supposed to be mounted in a completely flat surface. In order to ensure we create the exact specifications of the signage, we first began with a design specification. Every signage require meticulous planning just like a building.
After the signage design was finished, we proceeded to executing it. We took special care to follow the design exactly and make sure that every detail was followed accurately. As a new rising development, Hampton Garden needs a well-executed building signage to attract potential residents.
Signage is important for every business – whether an established brand or a new one. Signage helps establish branding to both employees and customers. In order to have an effective signage, only trust a veteran and experienced sign maker who can surely deliver the signage that you require.